7 Reasons to Apply to Californian Colleges ...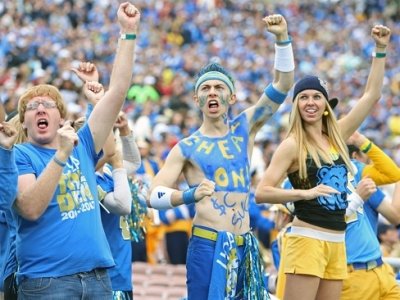 I've been looking forward to college since I started kindergarten and, being a California girl, I've always been drawn to Californian colleges. But whether you're an in-state, out-of-state, or international student, California is a great place to receive your higher education. If you're considering whether or not you should apply to any Californian colleges, here are the reasons why you definitely should!
I consider UCs as the Ivy Leagues of the west. With world renowned colleges such as UC Berkeley and UCLA, the University of California system is a reason to venture west for your college experience. These schools are competitive enough that you're encouraged to be the best student you can be, but generally maintain the state school vibe. If you're looking for great Californian colleges, you should research the UC system and find which university is best for you!
Alongside the UC system is the California State University system. There are more Cal States than UCs (23 Cal States vs. 10 UCs), and Cal State tuition is less expensive than UC tuition. Still, many are just as prestigious and competitive, such as Cal State San Diego. Both the UC and Cal State systems have beautiful campuses with quality professors and students, so I encourage you to research both of our public school systems to find a perfect fit for you! You may just find that your dream school has been waiting for you in California all along!
3.

Highly Ranked Private Universities
If public schools aren't what you're looking for, then you should remember that California has some of the highest ranking private universities in the U.S.! Our elite universities need no introduction. Take Stanford for example; one of the top five universities in the United States is a Californian college! Just a few other private universities worth considering are University of Southern California (USC), Pepperdine, and California Institute of Technology (CalTech). I hope you find exactly what you're looking for in our private universities!
Choosing a college isn't just about the school itself, but the location. Location is everything, especially when you're young, entering a new setting, and trying to discover who you are. Luckily, if you choose to attend a Californian college, you'll have no shortage of exciting and iconic places to visit. For starters, we have Disneyland, Yosemite National Forest, Hollywood, and Hearst Castle. If that isn't enough for you, don't worry; there is always something new in California, no matter where you find yourself in our exciting state!
California has one of the nicest, most consistent climates I've experienced. While our summers are sweltering, our winters are practically immune to the frigid cold that attacks eastern states! Hot weather isn't for everyone, but if you can handle it, weather is certainly a factor to consider when applying to Californian colleges.
California's warm and beautiful beaches will have you wanting to stay at school all summer long! And if you don't, you certainly won't need to travel far for a fabulous spring break! Many of our universities' greatest appeal is the beaches they're associated with; for example UC Santa Barbara and Pepperdine, which has its home in Malibu. And since we've already established that California has great weather, you can basically go to the beach any time during your college experience!
California is known and loved for its diversity. Californians are diverse not only in race and religion, but also cultures, personalities, and passions. California itself is diverse too, because the landscape has mountains, deserts, and beaches as well as bustling cities like Los Angeles and San Francisco! So if you're from a town where everything is beginning to seem dull, you should apply to some schools in California where you'll find something new and someone new every day!
California is just one of fifty magnificent United States. Each state has its unique appeal, but there are so many reasons to apply to Californian colleges, I don't see how you could avoid it! What schools in California do you dream of attending and why?
{{#comments_count}} Show Commnents ({{comments_count}}) {{/comments_count}}