Spring is in the air, and to me that means one thing- shopping for spring dresses for teens! I've always loved dresses and felt more comfortable in them than in jeans and a T-shirt. If you're the same way, it's time to bust out the wallet and revamp your wardrobe! There are countless stores that sell adorable spring dresses for teens in all different styles; here are a few of my absolute favorites!
---
1

Woven Crossback Maxi Dress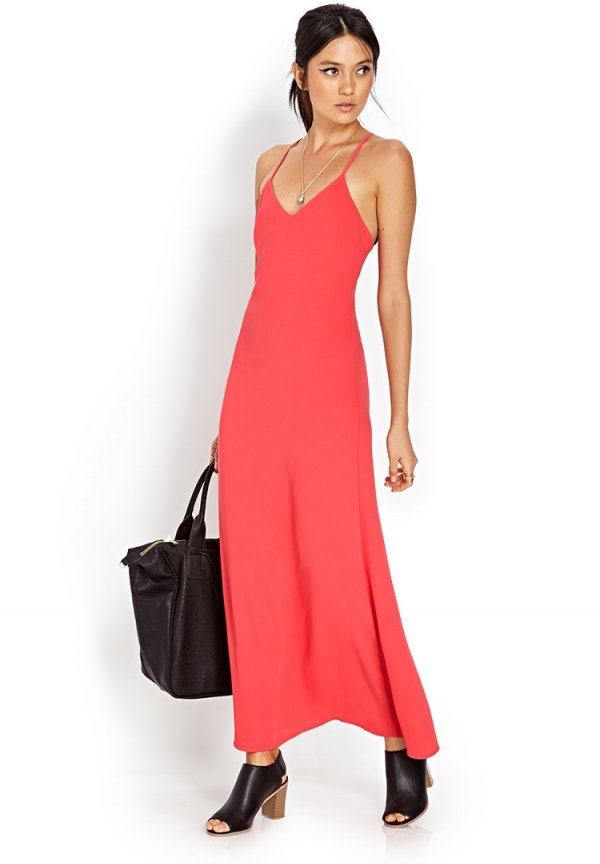 I don't think I could make a list of spring dresses for teens without including at least one from Forever 21. Forever 21 is my go-to store for restocking my closet each season, and when I stumbled across this dress I thought every teen should have it! What's spring without a carefree, flattering maxi dress like this one? And the soft, coral color will complement your sun kissed skin all season!
---
2

Table for Twofer Dress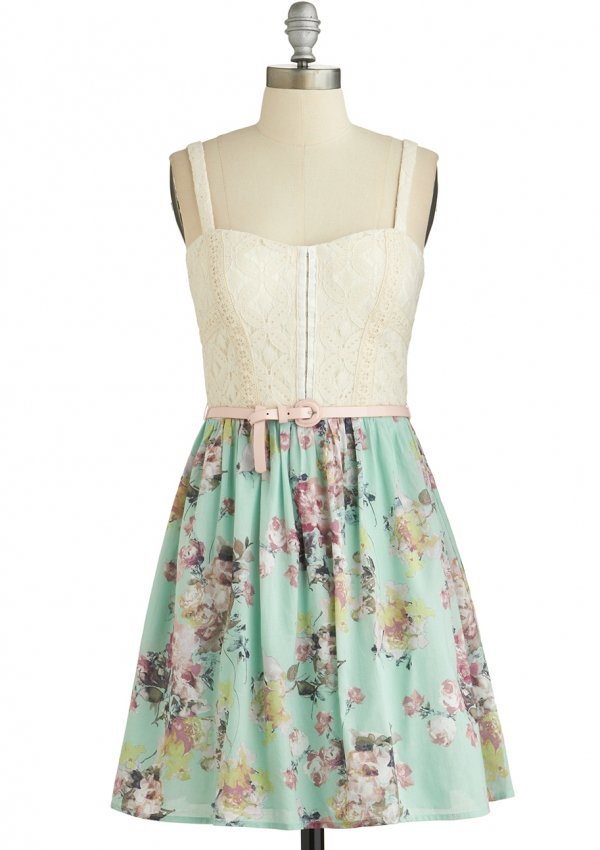 ModCloth, ModCloth, ModCloth! This store is my absolute favorite spot to hunt for sweet and stylish spring dresses. Their clothes can get pretty pricey, but this "Table for Twofer Dress" is as affordable as it is adorable! I know I'll be adding this to my closet this season, will you?
---
3

Cutout Hi-Low 2-Fer Dress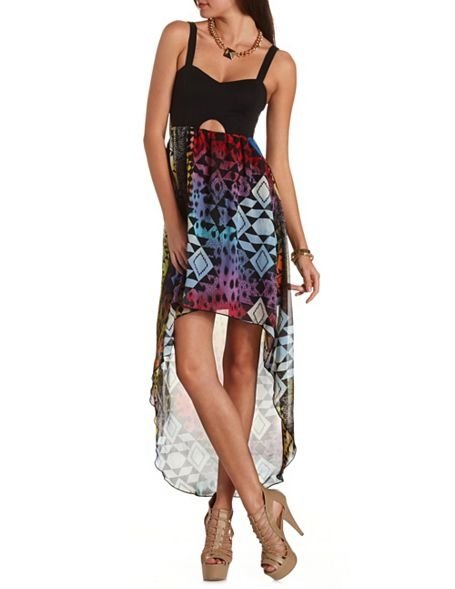 Guess what, girls? Bikini season is here! Sadly, nature doesn't seem to have caught on, so it's not quite time to break out the swimsuits. But you can still show off your bikini-ready body in Charlotte Russe's trendy, tribal print dress! With two cutouts (front and back), you can flaunt your amazing bod and soak up the sun!
---
4

Date with a Darling Dress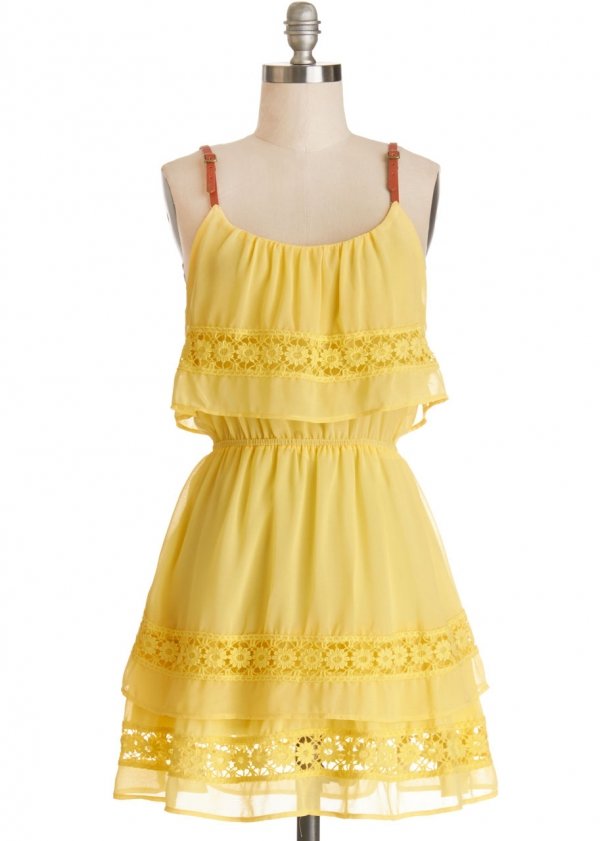 What's spring without a little bit of lace and a whole lot of sunshine? You can celebrate spring break in this delicate yellow slip dress. It's perfect for a beach day or simply a shopping spree at the mall. No matter what you're doing, you'll look chic and fabulous in this springtime must-have from ModCloth!
---
5

Belted High Low Dress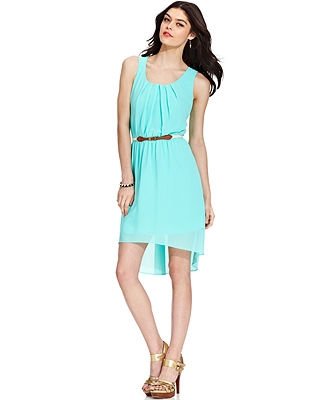 Macy's certainly knows how to brighten up nature's brightest season! You'll look stunning in this stylish high-low dress, which comes in both mint and cobalt blue. The airy fabric will billow in the gentle spring breeze, and keep you cool on warmer days. How can you go another day without owning this fashion phenomenon?
---
6

Solid Corset Dress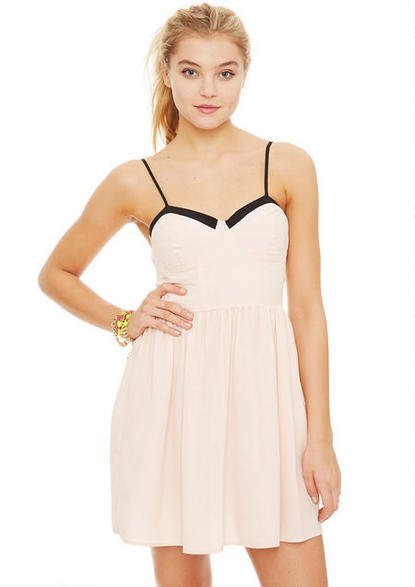 I've been in love with Delia's for as long as I can remember, and isn't it obvious why? Their clothes are sweet, tasteful, and perfect for spring break! This black and blush dress was made for any adventures this spring may take you on. It's simple, flattering, and perfect for soaking up the sun this spring!
7

Missy Dress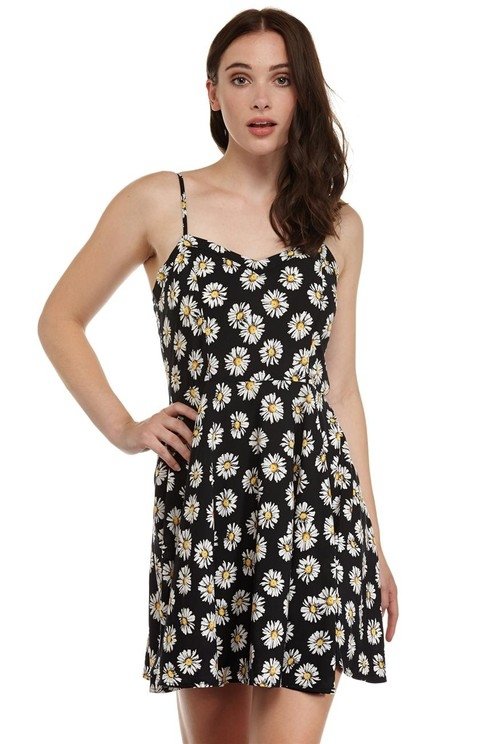 What says spring better than flowers? This stylish dress will tell the world that you're ready for spring! As an added bonus, Cotton On's Missy Dress comes in a multitude of patterns, from "Daisy Field Red" to this lovely dress! So when shopping for spring dresses on Cotton On, you'll never run out of options!
Spring wouldn't be the same without the timely introduction of fun, flirty dresses into our lives! If you love spring dresses half as much as I do, you must be dying to get your hands on at least one of these dresses now. Which one stands out to you the most? What other spring styles do you recommend for teens who want to soak up the sun?
---
Comments
Popular
Related
Recent