7 Reasons to Join the Exciting Greek Life in College ...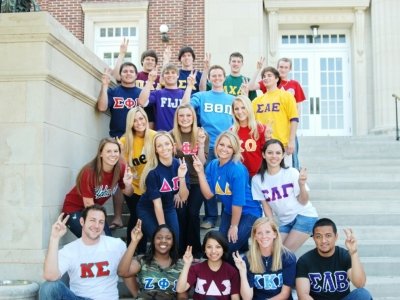 There are two ends to the spectrum of the Greek life in college. While some consider it as a major part of their college identity, others pride themselves on being independent of the system. However, despite the negative stereotypes that the media portrays Greek life to be, many Greek organizations have quite a lot to offer. Therefore, if you are still pondering on the idea of joining Greek life in college, consider the following benefits of being a part of something.
1.

Quick Way of Making Friends
Transitioning from high school to college is bittersweet. While it does allow you to move on to something new in your life, you are thrown into an unfamiliar environment with the goal to adapt. For many, going out of their comfort zone is not a concern, yet for others it is quite a challenge. Therefore, joining the Greek life in college will provide you with assistance to make new lifelong friends and connections. There is nothing stronger than a sisterhood or brotherhood bond!
Being in a new place by yourself can often leave you feeling isolated and alone, which is why it is always recommended to join clubs and sports just to feel a certain sense of belonging and unity. When you are miles away from your home, a sense of belonging is exactly what you are looking for and the Greek life can certainly provide you with that.
3.

Participating in Exciting Events
One thing for sure is that you will never be bored with Greek life. Between philanthropy and the rush season, you'll barely squeeze in time for a yawn. There are so many fun opportunities, such as Greek Week and mixers, so you will definitely get a dose of a friendly competition and socializing. There is truly never a dull moment and as cheesy as it sounds, you are sure to make memories that will last a lifetime.
4.

Full College Experience
When you are already paying so much for tuition and investing so much into your time at college, you want to get the feel of the entire college experience. What I have come learn in the past year is that saying 'yes' to opportunities that you might be hesitant about may be the best thing you every do, so join clubs, sports, sororities and fraternities because you don't want to regret the missed opportunities later on.
Many Greek organizations are very keen on community service. Most of the sororities and fraternities get heavily involved in their community as each one of them has their own philanthropies that they support. Some of the volunteer opportunities that you may encounter as a member can include cupcake sales, walk-a-thons and much more.
6.

Additional Housing Option
Aside from choosing whether you want to live on or off campus, you will also have a choice of staying at your sorority or fraternity house. You can have the benefits of being close to campus without having to deal with the chaos of living in a residence hall. Plus there is no better bonding experience than living with your sisters or brothers, which is why the housing option alone may be the reason to join.
7.

Leadership Opportunities
Greek life provides a lot of room for self-growth and improvement. For example, since it does require a lot of effort to keep the Greek life going, there are quite a few of leadership opportunities available for a grab. Therefore, if you are seeking to develop leadership skills, this would be a great way to start.
While Greek life does require a lot of effort and finance, there are certain perks that come with being a part of closely knitted organization. You see yourself grow as a person and experience new things, so why not rush? Will you be going Greek?
{{#comments_count}} Show Commnents ({{comments_count}}) {{/comments_count}}