As your high school graduation approaches, it's time to get creative and begin picking out the best designs for graduation caps. As a graduate this will be the last senior activity before the actual graduation ceremony! While not everyone chooses to decorate their caps, many feel like it's only appropriate to personalize their caps with clever lines, jokes and shout outs. So if you are in the mood to design your cap or just searching for ideas to use in the future, here are some epic and clever designs for graduation caps.
---
1

Harry Potter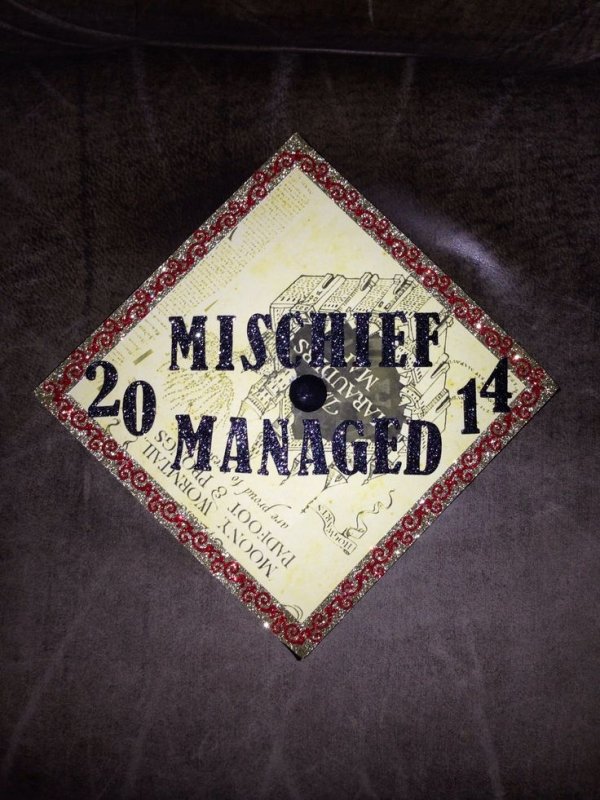 Only the true Harry Potter fans will actually understand these sorts of designs for graduation caps. 'Mischief Managed' is a way in which you could end a conversation or recognize the end of a project in the Harry Potter world. So using this line on your graduation cap will signify the end of your high school career, and all of the adventures you had!
---
2

Avengers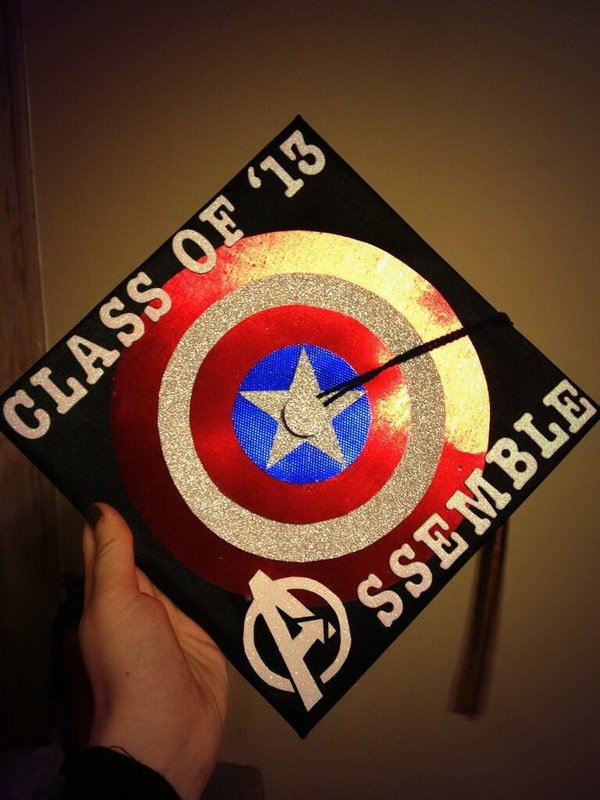 For all of the superhero lovers out there, this is definitely something that will catch your eye. It's clever and very appropriate, as this is the last time the graduating class will be coming together to celebrate its four-year accomplishments. It's the last time you will all assemble together and say your last goodbyes!
Trendinig Stories
More Stories ...
3

Up!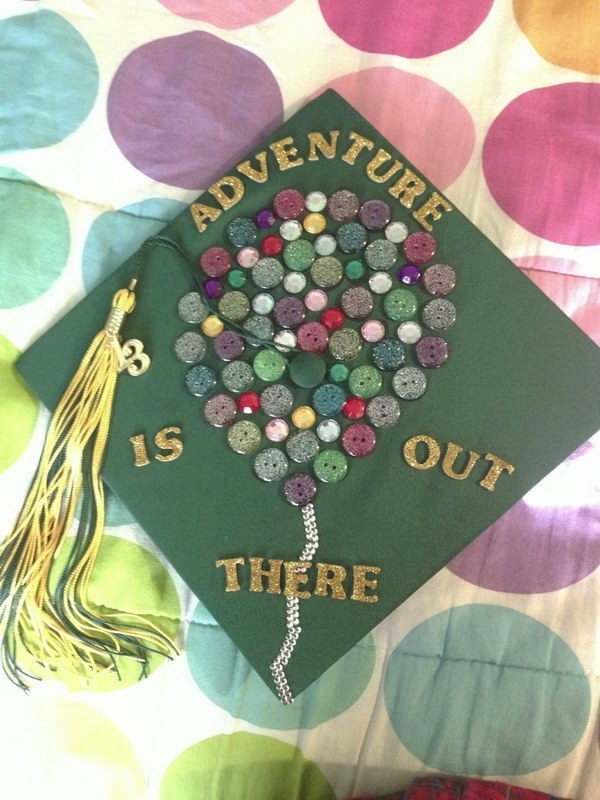 Up! is one of the most popular Disney movies, which is why I think everyone will get the reference of this cap design. So if you are more of a sentimental person, something like this will be more fitting to the occasion. After all, you want your cap to personally reflect you and the time you've spent in high school.
---
4

Loans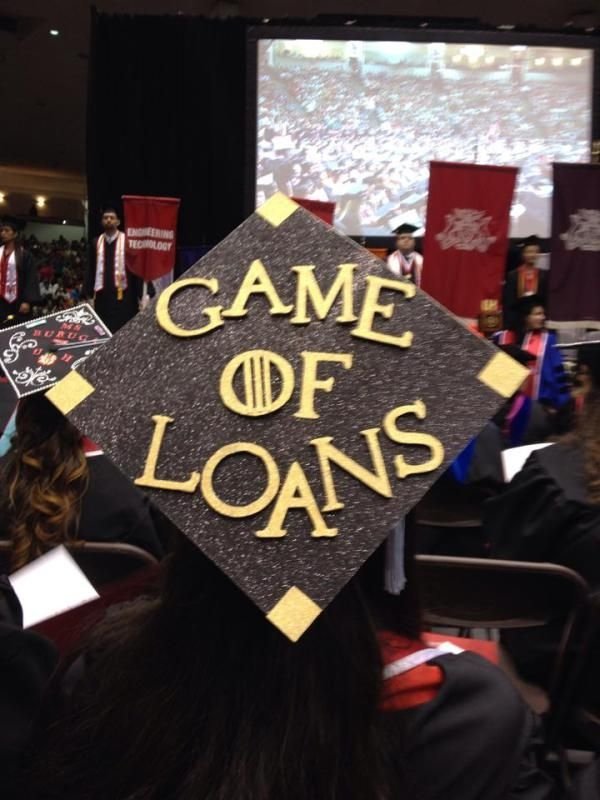 However if you are looking for something funny and witty, this is definitely up your alley. This specific design is a pun based on a popular television series, 'Games of Thrones,' but let's face it: in our case, this is definitely a game of loans. Education is not cheap!
---
5

Hogwarts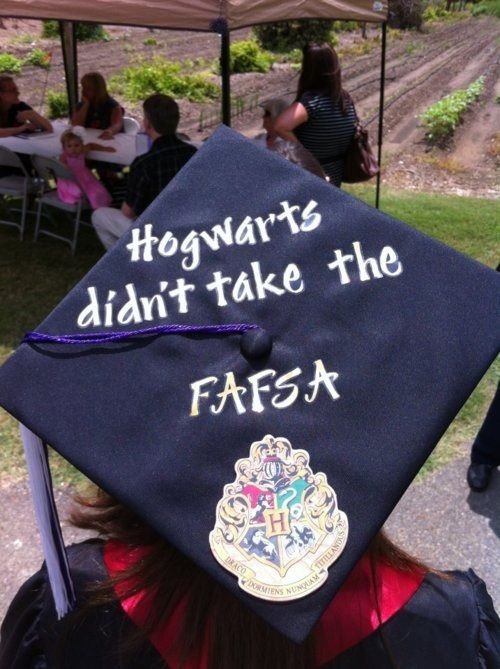 Oh how we wish the Harry Potter world was real, with Hogwarts in actual existence. It's seems like a much more exciting place than any college or university! But this epic cap design jokes that the only reason why we are not going to Hogwarts is because it doesn't accept FAFSA!
---
6

Nike
We all know the popular Nike slogan that says 'Just Do It!' and well, Nike, we just did it! We finally graduated after four years of high school. So if you are a Nike lover or just a fan of the idea, this is a very easy design to recreate!
---
7

Spongebob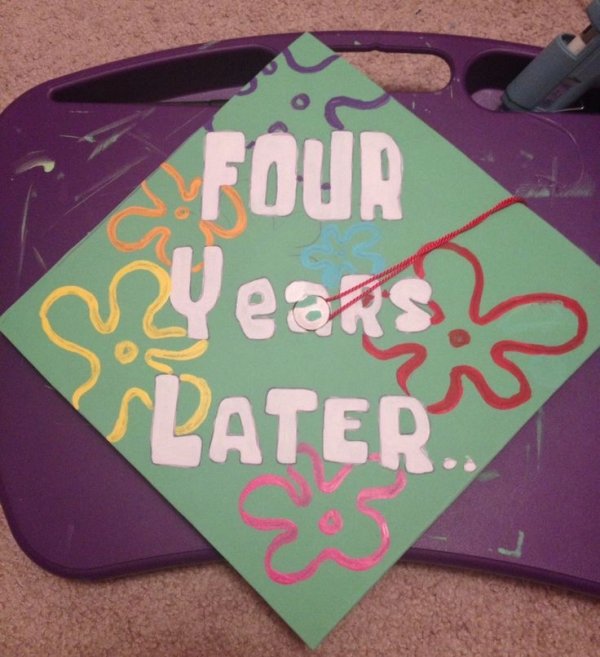 SpongeBob was a big part of our childhood for everyone who is graduating around this time. So this is again one of those designs that will easily be understood by your graduating class. Four years later… you are out of high school and on your way to college!
Graduation is a very bittersweet moment in every student's life. Yes, you are finally done with high school education once and for all, but now you are expected to make something out of yourself in the real world. It's both scary and exciting, but there is still time to enjoy your life as a senior. There is still time to be a part of senior activities like decorating graduation caps! Which design is your favorite?
---
Comments
Popular
Related
Recent